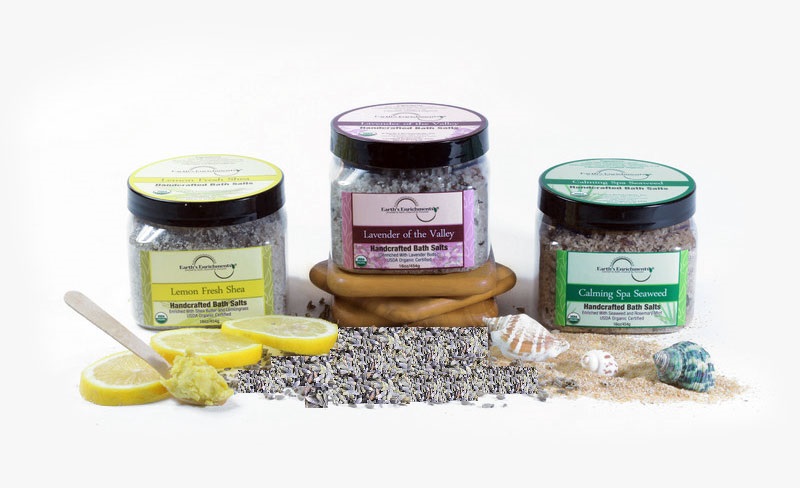 We have healthy and invigorating new treats for you just in time for summer! We would like to introduce you to our Calming Spa Seaweed, Lavender of the Valley, and Lemon Fresh Shea bath salts. For those of you who haven't really used bath salts, this week's blog is for you.
What are Bath Salts?
Bath salts are crystallized substances that dissolve in bath water. They are usually scented to enhance your bath experience.  It's like a form of aromatherapy.  Bath Salts also have many healthy beneficial properties for your skin.
What are the benefits of Bath Salts?
Aromatherapy can come in many different forms whether it is incense or candles, but bath salts are also another means. Bath salts can come in a variety of scents like Lavender and Lemon. These aromas are chosen based on the intended mood the individual wants to create when bathing. Lavender is an excellent relaxant and if the intention is to create a relaxing bath experience, we recommend Lavender.
Not only does it create a wonderful aroma but that aroma also leaves you smelling great when you leave the bath. It can make your skin feel smooth and soft. This happens because of the natural minerals in salt that cleanse your pores and leave your skin feeling fresh.
Why People use them?
People use bath salts to help them get the spa experience at home. They provide a means of relaxation, aromatherapy, and deep cleansing for your skin. They nourish skin and help break down and demolish the toxins in your pores. Afterwards leaving your skin is left feeling baby smooth, fresh, and smelling great!
We recommend you give Bath Salts a try and see how you like them. If you are ever in need of a relaxing experience and don't have time to go to the spa, try Calming Spa Seaweed Bath Salts. Or if you have had a rough day and don't feel like dealing with much else, run a hot bath and drop in some Lavender of the Valley Bath Salts. They will relax you and erase the stress of your day. Also, the hotter humid weather is upon us and after a long hot and sweaty day, try Lemon Fresh Shea. Each of these fragrances will help you skin glow and feel luxurious. 
The EE 411:
Bath salts help clean and remove impurities of the skin, while leaving your skin feeling silky smooth and regenerated. Bath Salts contain minerals and nutrients that aid in creating that smooth, fresh feeling. When selecting bath salts, look for ones that don't contain unnatural preservatives or chemicals.  Look for labels that read organic or have the USDA logo on it. Also, do your research. Don't bathe with them unless you know what's in it. Our bath salts contain premium sea salts and certified organic oils and  organic powders.
As far as the benefits of natural minerals here's a quick fact for you. It may also help you choose your next vacation spot. As you know by now, sea salts have natural minerals that help make the skin healthy. There are minerals similar to this that can be found in natural baths like the Japanese Onsen, which also leave your body feeling relaxed and satisfied.
These baths are usually created and heated by natural hot springs. Bathing in these hot springs introduces your body to nutrients and minerals that can also help keep your skin healthy, and help with joint pain. The heat of the spring can help alleviate (not cure) stiffness and aches. It's a natural way of pain relief.
This is an exciting bathing experience. It provides skin benefits that are similar to the skin benefits in the bath salts minerals. If you have free time, look up this experience and do your own research. You may find out it's something you want to try.
Share with Us: What do you do to make your bathing experience relaxing and stress free?

(This post was brought to you by Earth's Enrichments.  Similar posts can be found by visiting our Blog.  More information about our  company and products (USDA Certified Organic Soaps, Organic Bath Salts, Organic Sugar Scrubs, Organic Body Balms and Organic Lip Balms) can be found on our Website. Thank you Earth's Enricher!)